OPTIBRI: OPTimal use of High Strength Steel grades within BRIdges
Last modified:
02-09-2017
The project aims to develop welded bridges using High Strength Steel where it is required (mainly in highly stressed web).
As usually the fatigue resistance of the welded joint as well as stability issues reduce the interest of using HSS in bridges, the project studies: the optimal welding and post welding treatment in order to have a high fatigue resistance, as well as, the buckling behaviour of multiaxially stressed plates.
The quantification of the interest of HSS welded bridge from the point of view of cost and environment is performed on a 20 m wide highway bridge spans 80 m.
Three designs of the same bridge are compared through Life cycle environmental assessment (LCA), Life cycle cost (LCC) analysis, Life cycle performance (LCP). The first bridge design (A) is classical and uses only standard S355 steel grade when the second design (B) uses HSS S690 QL steel, however with the current Eurocode state which does not account of the steel grade in many issues. Finally the third design (C) is performed relying on the real HSS behaviour and HFMI post treated welds or welds with LTT material filler. This third design and more generic case study demonstrate the need of updating of Euro Codes.
The 20 m wide highway bridge spans 80 m has a large place on the market. It presents clear fatigue problems and some stability issues (need of enhanced rules for buckling of multiaxially stressed plates) that the project addresses.
The research will provide a window example to inform the Civil Engineering community about the interest of using HSS within bridges. In addition, a comparison between the HFMI post treated welds and welds with LTT material filler will allow a ranking of these two possibilities to increase fatigue strength of welded joints.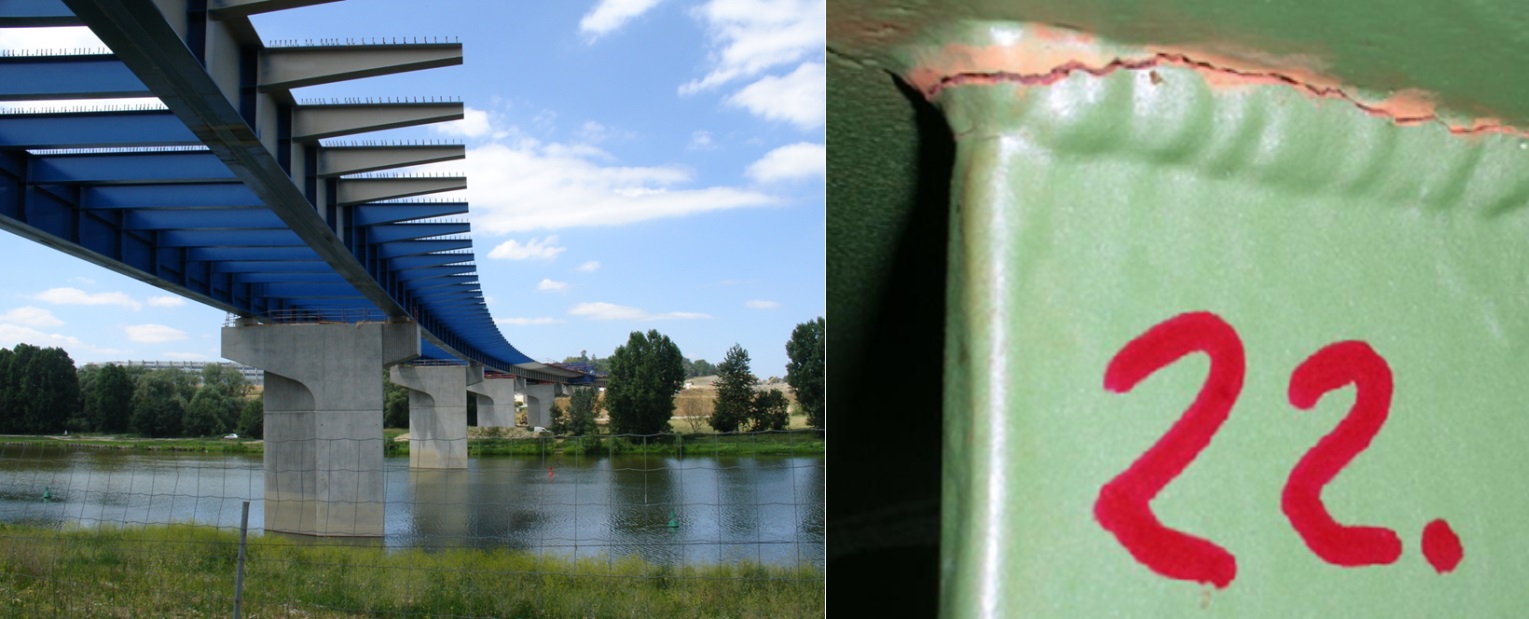 Project description
Partners
Universite De Liege - Belgique - Contact: Anne-Marie Habraken (Pr. Coord.)
Belgisch Instituut Voor Lastechniek Vzw - Belgique - Contact: Fleur Maas
Grid, Consultas, Estudos E Projectos De Engenharia Sa - Portugal - Contact: Antonio José Reis
Industeel Belgium - Belgique - Contact: Jean-Jacques Dufrane
Universidade De Coimbra - Portugal - Contact: Luis Simoes Da Silva
Universitaet Stuttgart - Deutschland - Contact: Ulrike Kuhlmann
Results
A free workshop highlighting the results of the RFCS Research Program on Design Guidelines for Optimal Use of HSS in Bridges was held at Stuttgart University on May 3rd, 2017. It will feature discussions on how to best apply high strength steels in bridge design and construction.