Cutting Procedure Qualification according to EN 1090
On the other hand, requirements are also set for EXC 2 and higher regarding the tolerance of the squareness and the roughness of the cutting edges. The results of this examination are reported and can then be used to draw-up a so-called cutting procedure qualification (CPS) according to EN 1090-2. If a cutting procedure must be suitable for EXC 4, the requirements for the perpendicularity and roughness tolerance are stricter than for EXC 2 and EXC 3.
Each machine is qualified separately. For a single qualification, test pieces are produced from both a minimum thickness plate and one maximum thickness plate, applied in production. Preferably, the test plates are cut and delivered in the form shown in Figure 1. The cutting parameters are recorded. When cutting different materials (for example stainless steel and carbon steel) these are qualified separately.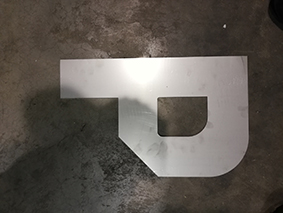 Figure 1: Shape of cut test plate
Hardness on the cutting edge
For carbon steel S≥460, the hardness of the cutting edge should not exceed 450 Vickers Hardness (HV10). Processes that can lead to hardened cutting edges (thermal cutting, but also mechanical cutting and punching) need also to be checked. The hardness results are finally reported in order to prepare an CPS.
If the hardness on the cutting edge are too high, a preheating of the parts or slightly grinding of the cutting edges can be applied in order to lower the hardness.
Implementation by BWI (BIL)
BWI (BIL) can carry out the obligatory tests for your Cutting Procedure Qualification according to EN 1090-2 and/or EN 1090-3 for your company. Please contact us for more information.